Special Items
Four Cheese (4 formaggi)
New 2022! "Four cheese" is our 4 places bike stand.
It is a simple but very effective structure.
Allows you to park bikes with wheels from 24″ to 29″, with a maximum width of 2.8″ (3″on request)
Excellent for events, at home, and also in the van thanks to the upper block that prevents the wheel from coming out.
When open it measures 122 cm in width, for about 95 cm in height.
It closes without tools, unscrewing only two knobs, and when closed it measures 70 * 100 * 10 cm
Weight: 10.5 Kg.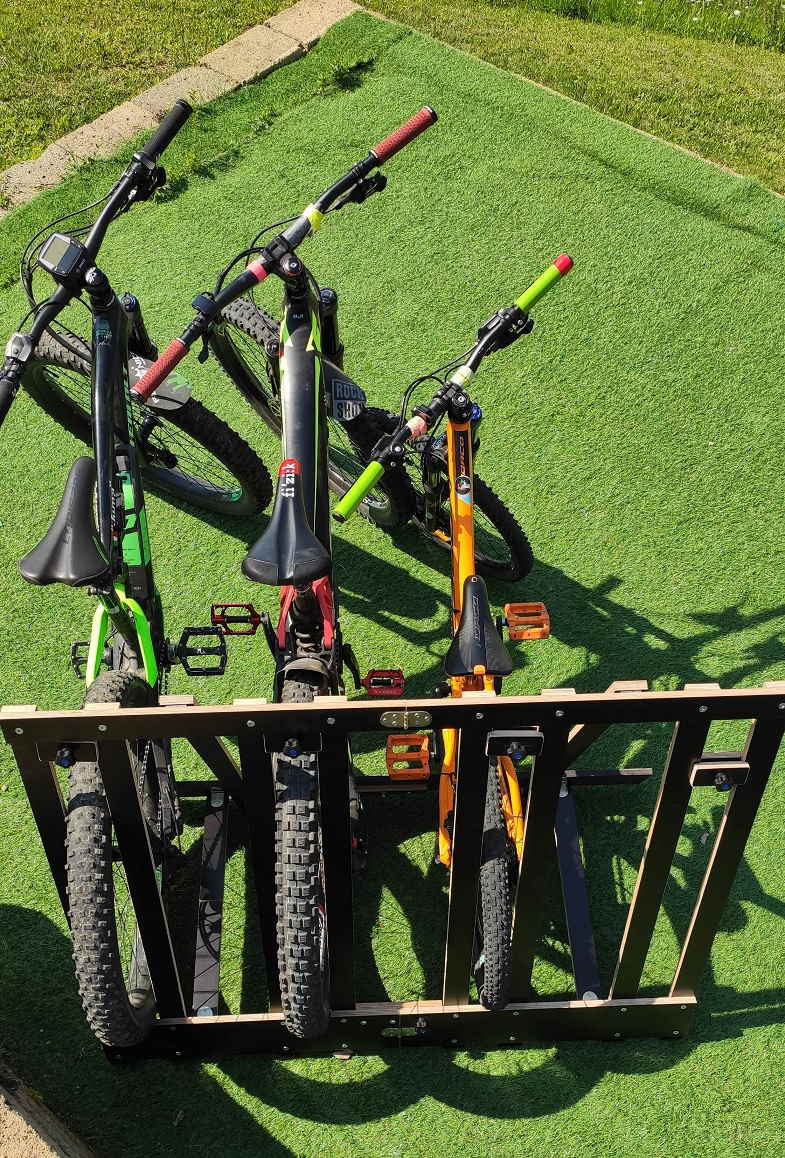 Altopiano
"Altopiano" is our table-top.
The ideal completion to be inserted between two opposite ramps to form the classic "panettone", but as always, transportable!
It goes well with both Alpha series ramps and the Beta series Calzone.
The shelf, 80 cm wide (like the alpha) is 114 cm long and is divided into 2 parts to be demountable, and is reinforced to withstand even the most abrupt landings.
It has a height of 56 cm, but it can be easily closed using the knobs, and when closed it becomes 114 x 86 x 12 cm. It can be used both flat, as a classic table-top, and tilted as a ramp, keeping two legs closed.
Weight: 19 kg
Tirolese
Tirolese is a "manual machine", that is a tool for practicing the wheelie.
It can be used with 24, 26, 27.5 or 29 inch wheels.
is compatible with tires from 1.8 to 2.8 "
It allows a slight lateral inclination, adjustable at will, and includes a safety rope to prevent tipping.
It can also be used as a support to park the bike.
Length: 125 cm
Width: 60 cm when mounted.
Quattro stagioni
It is an adjustable staircase in the number of steps and in the height of the legs that support the uppermost part. So it can be adapted to flat terrain, but also downhill.
All the steps are 57 cm wide, and reproduce the trend of a normal staircase, with 30 cm of tread and 17 in height
The standard version consists of 4 steps that inspired us for the name. These reach a height of 68 cm on the flat, and are therefore well coupled with a Calzone or Capricciosa ramp. But the total number of steps can always vary to 3, 5,6,7 etc. to adapt to any situation.
To limit the weight, the cost, and make it transportable, the internal part of the steps is missing, since in any case the wheels will never reach this area.
Standard version: 4 steps.
Step width: 57 cm.
Low and intermediate step dimensions: 30cm (20 boards + 10 missing).
High step size: 40 cm, all planked.
Step height: always 17 cm.
Height on flat ground: 68cm. (4 steps)
Maximum height (on downhill terrain): about 90 Cm.
It is assembled with an Allen key and a 10mm hex wrench, while no tools are required for the subsequent adjustment of the legs.
Marinara
Marinara is a completely removable and reassembled tilting table.
It can also be configured with both sides on the ground, to create a simpler up-down trend than the tilting table.
Easily movable thanks to the retractable wheels.
It can be disassembled in various stages, depending on the need to reduce the space occupied.
Typical unassembled dimensions: (114 * 40 * 20) + (40 * 40 * 25) (assembles in 4 minutes)
Minimum dimensions when disassembled: (90 * 40 * 13) (assembles in 10-15 minutes)
Length: 228 cm
Center height: 25 cm
Width: 40 cm
Weight: 19 Kg
Ideal from 5 to 50 years
Viennese
Viennese is a simple tool dedicated to the little ones, but it can also withstand an adult without problems.
Its mission is to improve balance and accuracy.
It is a simple folding bridge, 12 cm wide and 235 cm long in total. The support bases have a wider plant to avoid overturning.
It sounds so easy … but it's not really like that!
Viennese is a very simple structure with a very low cost. To avoid excessive price increases due to shipping costs, we recommend purchasing together with any other Ramoon Rampe item.
Length: 235 cm
Length when closed: 122 cm.
Height 10 cm
Width: 12 cm
Weight: 7 Kg
Ideal from 4 years onwards.
Patatosa
Patatosa is probably the only modular, light and transportable parabolic curve on the market. (at least I have not found other equivalent)
It is an ideal solution for small temporary events.
Each module has the shape of a trapezoid 125 cm high, and about 110 cm long (95 at the bottom and 120 at the top).
Each module creates a curve of approximately 22 °, so it takes four modules to create a 90 ° curve
A single vertical fixed point is enough for fixing, such as a tree trunk, and the rest is fixed with straps staked to the ground.
The modules are joined together with the included bolts; two people and two 13mm wrenches are enough.
Inclination of the curve with respect to the ground: about 60 °
Weight: 20 Kg for each module